If YOU Do Not Invest In Yourself -
Everything You Want to Know About A Supply Chain Career
Are You Ready To Move Your Career Up A Notch?

Savings Service And Supply Chain Continuity
Everything You Want to Know About A Supply Chain Career
$9.00
Do not be misled by the relatively low cost of this guide. It contains valuable information and advise – mainly to aspiring newcomers into the field of supply chain management. However, even many experienced practitioners will find the information refreshing and crystallising some of their own observations and discoveries in this field.
Have you ever wondered what a career as an SCM professional feels like, or is a career in SCM worth it, then you are in the right place. For the price of a drink in a popular city bar you will get answers to these and many other relevant questions.
See the full description below to decide whether it is worth spending $9 on this report, or not.
Description
Everything You Want to Know About A Supply Chain Career
Over the past 23 years, I have been working as a supply chain expert, I have fielded a range of questions ranging for what kind of chains do you sell, to what is this thing called supply chain?
The best questions are asked by the curious new entrants who send me a continual stream of questions on social media. I do my best to answer those when my time allows it.
Now I found a better way to answer these questions – this report. I would have made this report free, but people only appreciate what they vest into. Hence the minimal price for this report – and if you cannot afford the price, send me an email and I will find a way so you get it for free.
What kinds of questions are covered in this report?
Look at the following questions from the report itself:
How to enter this career?
Why SCM careers are becoming so popular with the younger generations – especially in India, China and Asia
What are the three attributes on which your progress and growth in supply chain career depend?
How does a career in SCM differ from one in logistics, procurement or production planning?
Why there are so many questions about a career in SCM in Quora, LinkedIn, MBA lectures and conferences and training? What kind of questions are most common?
Why SCM is one of the best careers today?
What is the difference between a good supply chain manager, a great supply chain manager, and an ordinary one?
How does a career in SCM compare with other popular careers that youth choose today – such as engineering, medicine, accountancy, marketing etc. What are the pros and cons of each of these careers as compared to a career in SCM?
If you are aiming for the top, what is the best MBA strategy with SCM as the focus?
What are the four types of SCM professionals you will encounter in the workplace today? What are their relative strengths and weaknesses?
What are the careers and hierarchies with SCM field?
What kind of salary can you expect in the SCM field?
What kind of progression can be expected in the SCM field?
What are the day-to-day jobs in the SCM field? How do they grow as you progress in your career?
Why SCM is the most suitable tool for a complete business transformation and why supply chain transformation professionals earn such a lot?
What is the difference between the business-as-usual team and the business transformation experts in the SCM field?
What kind of attitude helps to enter and prosper in the SCM field?
What is the difference between the optimiser mind-set and the other two mind-sets? Why only one of them is suitable for the SCM field?
What skills help you shine in the SCM field?
What is the limit to growth in the SCM field?
Who can help me grow in the SCM field?
If you want more information on this report – click here…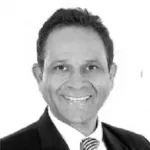 Today, Vivek and his partners are among 20-30 people on the planet earth who have this deep understanding of supply chain systems, practices and tools. CEOs, COOs, executives and Boards call them in most challenging situations once they know the full potential of supply chain based transformations. Following are key milestones in Vivek's journey:
Started in 1983 as a merchant navy cadet at 18 years age, worked his way to qualify as a Captain – qualified to take command of any merchant ship, worldwide.
Earned a top tier MBA from UNSW at the top of his class.
Joined highly regarded strategy consulting firm Booz Allen & Hamilton, consulting to the CEOs, Boards and senior management of global corporations within Australia.
To learn and specialise in supply chain – against all odds, sought out the co-inventor of supply chain in Germany and convinced him to be a partner in his firm, GLOBAL SUPPLY CHAIN GROUP, launched in January 2000.
More than 500 successful blue chip projects with high impact business transformations in large corporations using the full power of SUPPLY CHAIN MANAGEMENT.
4 Seminal and path breaking business books IN SUPPLY CHAIN MANAGEMENT – these are available in bookstores and universities and libraries worldwide.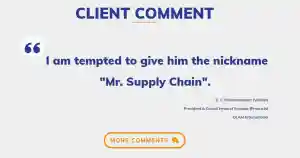 Our Clients come from a variety of industries – yet they have a common element. They rarely rest on their laurels, and are always looking to do better with less resources.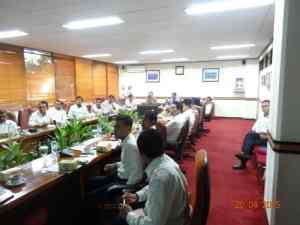 OUR PROJECTS - EFFECTIVE TRANSFORMATIONS
In the last 20 years we have completed more than 500 projects. Click below to see a sample of our projects.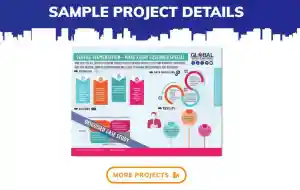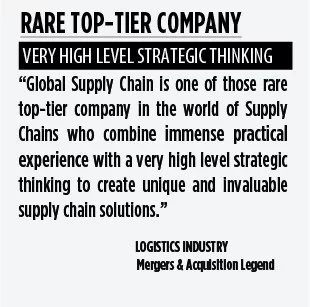 We accept the following payment methods:
We've updated our returns policy