EXPERIENCE THE FULL BENEFITS OF A TRULY EFFECTIVE SUPPLY CHAIN
Global Supply Chain Group, started in January 2000, has consulted on over 500 large scale supply chain strategy projects spanning every continent. Based on our results, Global Supply Chain Group is today one of the most innovative and effective pure supply chain strategy consulting company in the world. In addition to 'co-inventing' supply chain management, the principals of Global Supply Chain Group have continued to create, harness and propagate a significant amount of practical intellectual capital on supply chain management. Today, this forms the foundation of every supply chain in the world.
REVITALISE YOUR SUPPLY CHAIN USING A RESULTS FOCUSED APPROACH:
1. Systematic, WELL-TESTED, rapid, and secure methodology, 2. Practical intellectual capital: courses, workshops, reports and books, 3. Masterful, friendly, and, flexible teams.
CHOOSE FROM THREE EFFICIENT OPTIONS FOR YOUR SUPPLY CHAIN REFRESH:
1. Deploy our pro-active teams for RAPID supply chain diagnostics, accurate strategy formulation, and diligent upgrade, 2. Utilise our DEEP specialist know-how to mentor, and work alongside, your supply chain projects teams, 3. Work with us to TAILOR a combination of the above two options to suit your budget.
GLOBAL SUPPLY CHAIN PROBLEM SOLVING
Why Is There
A Need For Global Supply Chain Group?
Because Safe, Secure, And, Profitable Supply Chains Are Even More Mission Critical Today.
Unfortunately, internal teams fail to recognise many of the seemingly small GAPS in supply chain capabilities that WILL unexpectedly DAMAGE YOUR business.
DO A QUICK PULSE CHECK
IN FIVE MINUTES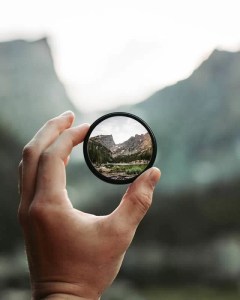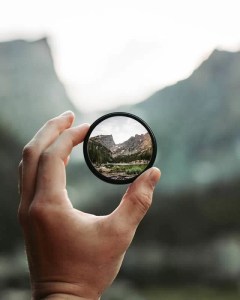 It Will Take A Sustained Conscious Effort, With Cutting Edge Real Life Experience On Several Similar Projects, To Re-Build A Supply Chain That Will Sustain Your Business Through The Coming Turmoil.
No company can Afford Supply Chain Missteps At This Critical Juncture In Global Supply Chains. it is highly advisable to do your due diligence:
Like Everyone Else, Are You Looking For The Best Supply Chain Consultant In Australia To Get Your Supply Chain Back On Track? 
We can understand your frustration because every supply chain consultant declares himself, or herself, to be the best. And, no consulting company, no matter how big or small they are, can be the best supply chain consulting company under all circumstances. That is simply impossible because of the complexity of supply chains, and diversity of supply chain problems.
Which means, that really what you need is the best supply chain consultant for your project. That depends on three things:
1. What Kind Of Supply Chain Problems Do You Have? Is It A Strategic Problem?
If it is a strategic problem, a tactical consultant simply would not be able to get their minds around it. They will likely ignore the real problem, or trivialise it, and make themselves look useful by focusing on the wrong problems that they can comprehend. 
Is it a tactical problem?    A strategic consultant will be like taking your naval frigate to compete in the local yacht club. 
Is it an operational problem?    Only an operational consultant will fit the bill – others will be simply provide overbaked, overpriced solutions.
Is it an execution problem?    You might need a HR consultant, rather than a SCM consultant. 
Same applies to the areas of supply chain that are directly underperforming. Shipping, manufacturing, warehousing, logistics, inventory experts can rarely step out of their comfort zones. Very few of them can deal with the board level strategic projects.
Similarly board level consultants rarely know even the terminology used by the lower level personnel in supply chains – they end up 'inventing' their own terminology, which creates adverse reactions, and, prove counterproductive. 
2. What Is The Current Level Of Supply Chain Maturity In Your Company?
Supply chain is all about integration, and optimisation.
 On a scale of 0-10 try and assess the level of integration and optimisation in your company. At a lower levels of integration and optimisation, you need to assess your company's comfort level with higher level concepts. 
Do not waste your money on super-expensive strategic consultants if you, or your people are not yet ready to move to a higher level of supply chain. 
3. What Will a great supply chain for your company Look Like?
If you already have a precise answer to this question, you can answer the previous two questions easily and accurately.
However, as in most cases, the answer is somewhat vague like a scatter gun shot, you need to start at the top. Clarify and agree on this answer before you do anything else.
You may need a firm like ours to help you clarify answers to these questions, and many similar questions. Contact us on [email protected] in that case.  
After all, your company may not even need the help of a consulting company. 
How Would YOU Take Your Supply Chain To Its Next Level In 2022?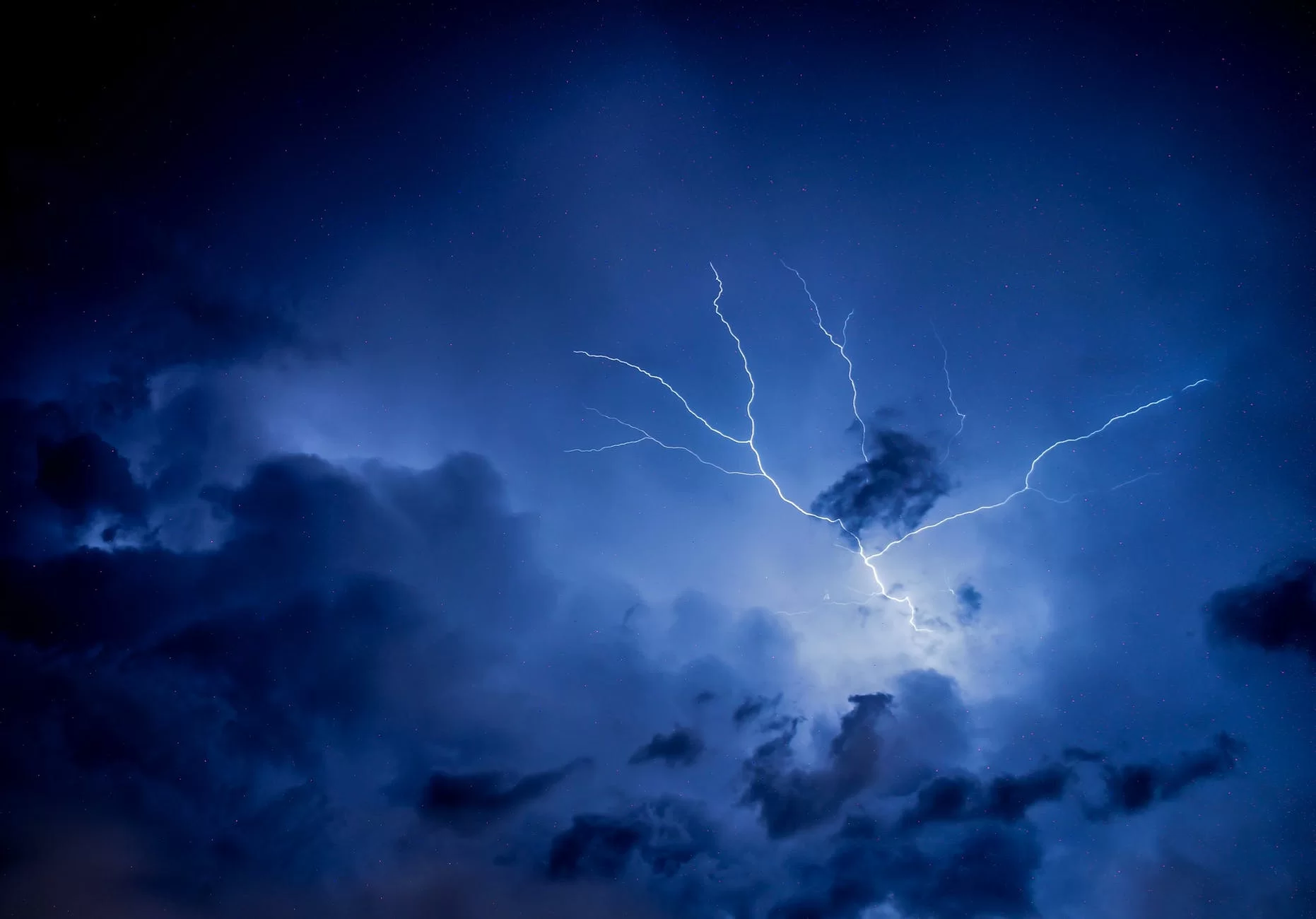 Where To Focus Within Your Supply Chain?
Is the current level of your supply chain as good as it gets, or is there some room for improvement? What does next level supply chain look like for your company?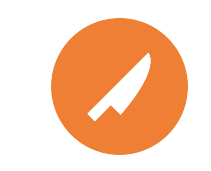 What Is Hurting Your Supply Chain's Performance Right Now?
Where are your supply chain weaknesses, and which industry, company or group excels in those areas? What can you learn from them, and how can you adapt that supply chain learning?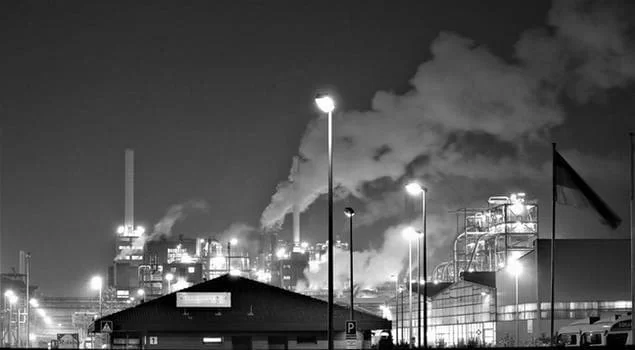 How To Best Collaborate In Your New Supply Chain?
How can you collaborate with suppliers and customers to learn from them, and embed these advanced supply chain practices in your company?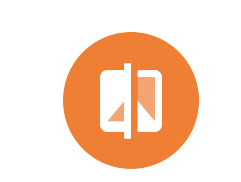 Who Can You Learn From? How Can You Get Your Supply Chain Up To Date?
Is there something you can learn from the competitors' supply chain?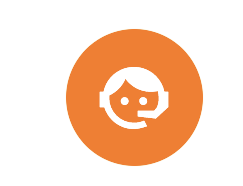 Where Are The Customers Going, And How Can You Position Your Supply Chain To Be There?
Where are your supply chain weaknesses, and which industry, company or group excels in those areas? What can you learn from them, and how can you adapt that supply chain learning?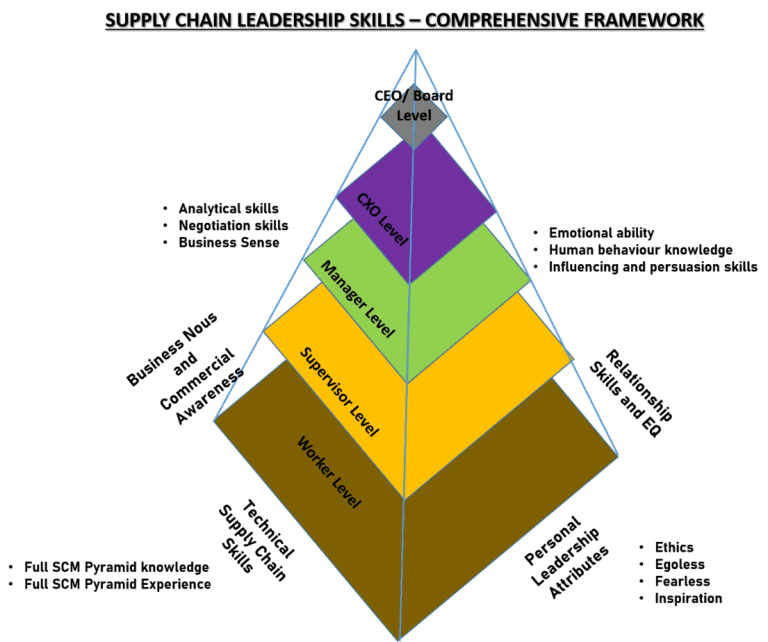 What Else Could Happen that could Disrupt Your Supply Chain?
What supply chain scenarios are probable, and what do you need to prepare for those? What supply chain scnenarios are possible, and what do you need to ensure survival?
Robust Supply Chain Management Practices Are Your Only Shield Against Attacks On Your Business And Profits From All Directions.
you Do Not Always Need A Supply Chain And Operations Consulting Services To Help You Answer These Six Important Questions Outlined Above.
So, When Should You Look For A Supply Chain And Logistics Consulting Firm To Help You In Your Supply Chain Transformation Project? 
While there are no hard and fast rules to answer this very important question, most companies do tend to get the timing wrong. Depending on their last experience, either they call in the help too early, or too late. 
In general, when your business transformation task ahead of you is too complex or too cumbersome to interfere with the day-to-day jobs of your regular supply chain management teams, you should call in for at least some external supply chain consulting service. 
As a rule of the thumb, you will need a supply chain consulting firm in Australia, or whichever geography your supply chain extends into, if your business transformation task ahead involves moving up two generations of SCM. 
What does each generation of SCM mean, and how to recognise which generation is your supply chain? To answer this important question, get a copy of the book Unchain Your Corporation, or talk to the best supply chain advisors in Australia. There are very simple and objective tests that can help you clear the fog of confusion.
BEST SUPPLY CHAIN MANAGEMENT CONSULTING FIRM ONLY OUR CUSTOMERS KNOW ABOUT
THROUGH UPS AND DOWNS OF THE BUSINESS CYCLES, GLOBAL SUPPLY CHAIN GROUP'S UNIQUE APPROACH SAFEGUARDS CLIENTS' PROFITABILITY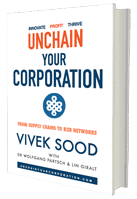 Amidst a crowded marketplace, supply chain challenges continue to multiply. COVID-19 is only the latest one. 
Global Supply Chain Group get calls for help from distant shores because, a supply chain master from our team can pro-actively prevent a range of supply chain issues that will otherwise hit your business a few steps further down the road.
Our global supply chain masters will, at the outset, help prevent many business problems that other, more branded or noisy, consultants will spend a lot of your money trying to solve.
We are sure you have your own formula to work out the answer to the most critical question. You would check the website, check out the project references, interview the senior professionals and hear the pitch from each of the company on your short list.
For Your Own Project, How Would Make Out Who Is The Best Supply Chain Consulting Firm In Australia?
Everyone does the things mentioned above.
Why, then, a large percentage of people express disappointment after the project is over. Here are a few reasons that were told to us by our clients who engaged other consultants before us:
People who come in for the sales pitch do not work much on the actual project. They never intended to.

Impressive looking resumes from overseas are tagged on the the project proposals, but the people overseas are too precious to contribute significantly to the Australian project.

Project team is inundated with junior staff with high billing rates and little contribution to the project results. These junior staff are told to generate a lot of impressive looking slides which contribute little to the final project outcomes. They are really just learning how business works, and at a huge cost to you. 

Smoke and mirror tactics – smooth talking slick salesmen promise anything to get the project started, but deliver lots of graphs and charts with little substantive value attached to them.
We would advocate starting with a small trial project of just 2 weeks or so. Test out your new supply chain consulting firm on a smaller, less consequential project to see if their insights hold water in your business environment, or not.
Be prepared to test out a few more if you need to. Do not hold a long drawn selection process that only brings out the survivors, rather than the performers.
Why?   
Because, people are different during the sales process than they are during the actual project. The only way to assess their performance during the project delivery process is to see them during the project delivery process. 
SUPPLY CHAIN CAPABILITY BUILDING
WHY GLOBAL SUPPLY CHAIN GROUP IS ONE OF THE BEST SUPPLY CHAIN STRATEGY CONSULTING FIRMS IN AUSTRALIA?
BECAUSE GLOBAL SUPPLY CHAIN GROUP WILL HELP STRENGTHEN YOUR COMPANY'S INTERNAL SUPPLY CHAIN CAPABILITY - AN EFFECT THAT WILL LAST A LONG TIME.
I was pleased to note that the original target set for 3 years was surpassed by 70% in just 18 months - providing graphic evidence of the full power of these ideas in action.
Philippe Etienne
Head of SCM, and Later Managing Director & CEO
Orica
GLOBAL SUPPLY CHAIN TRANSFORMATION RESULTS
GLOBAL SUPPLY CHAIN GROUP PROJECTS
With more than 27 years of "pure" supply chain strategy experience, original thinking, and the contribution of the "inventor of supply chain management" on our team, you will see results, instead of a three-act circus that your past consulting firms showed you.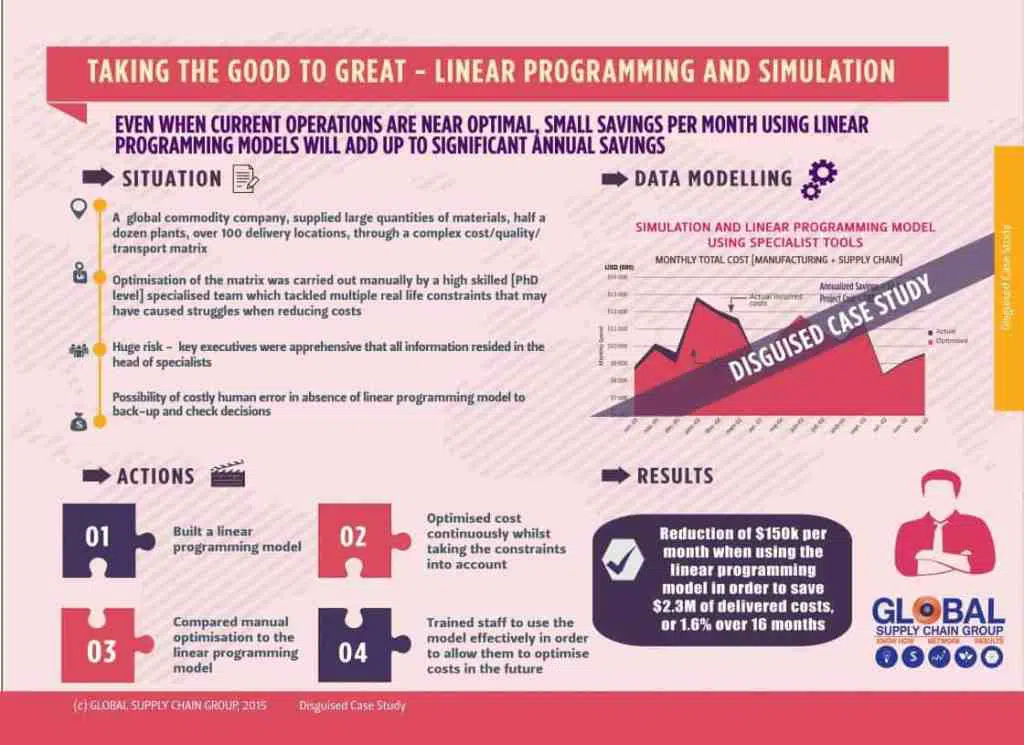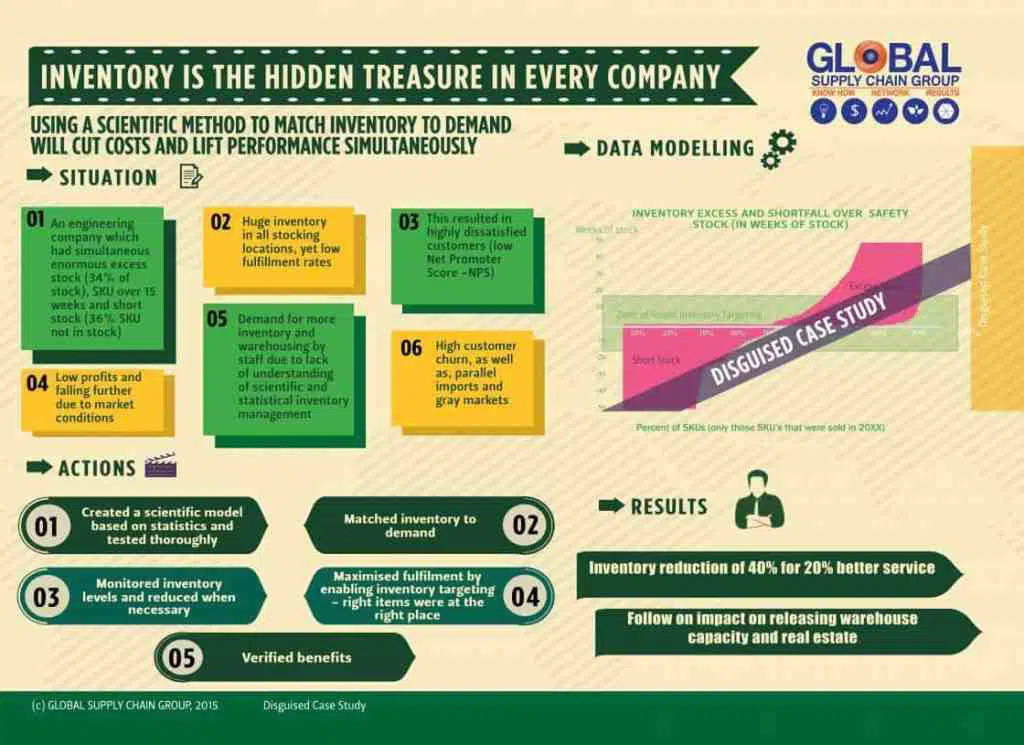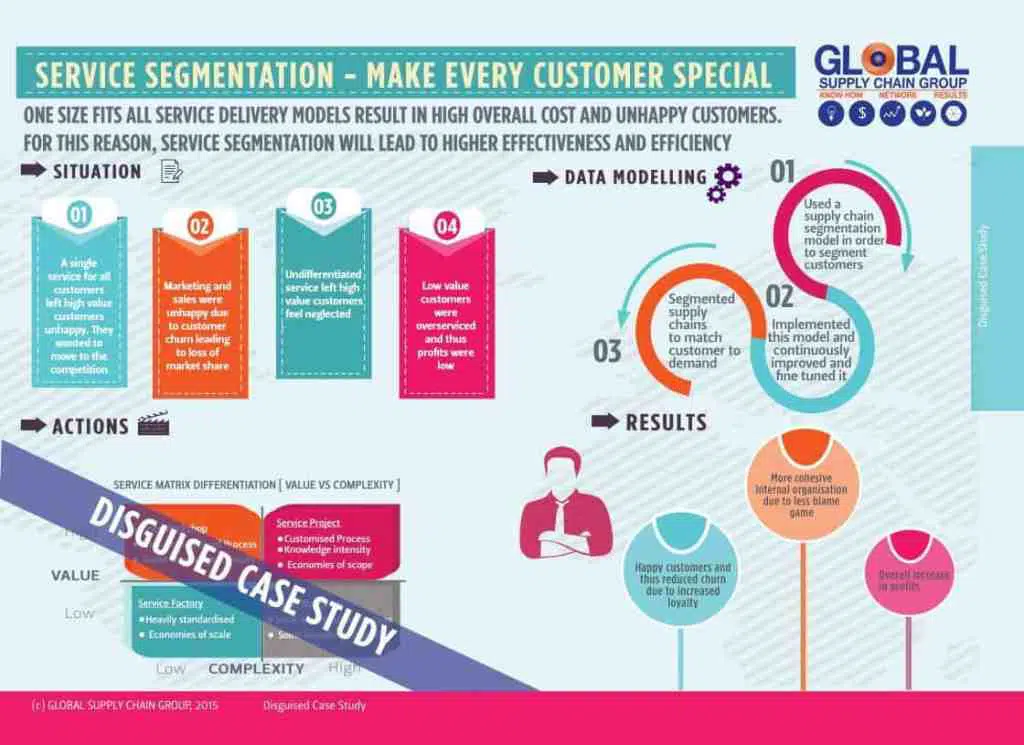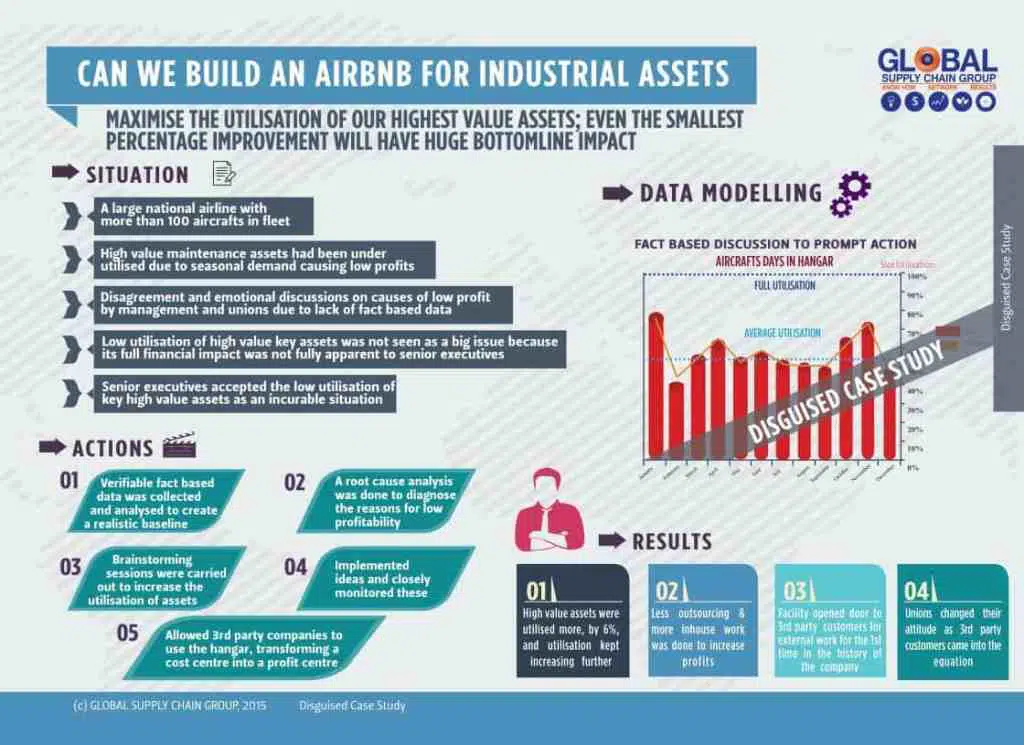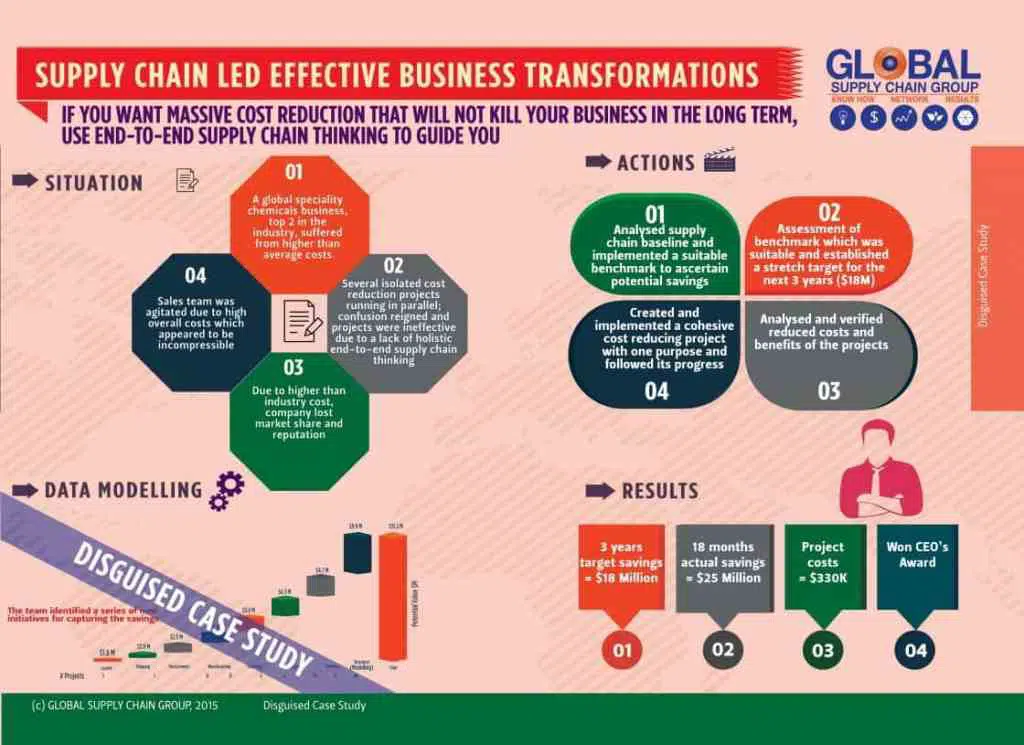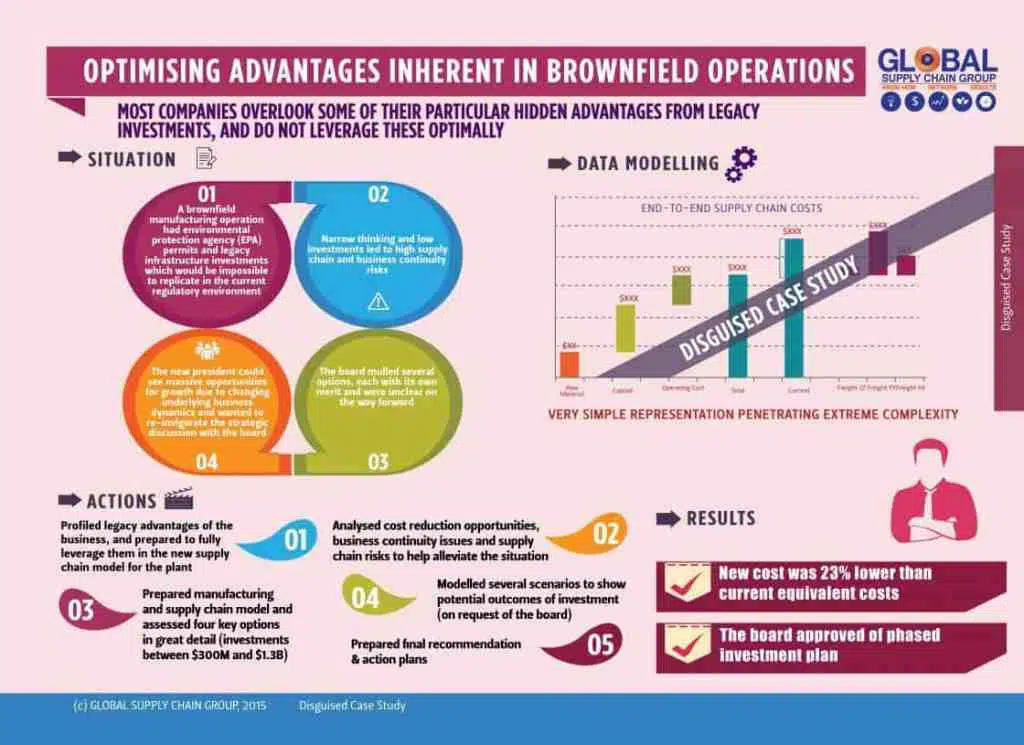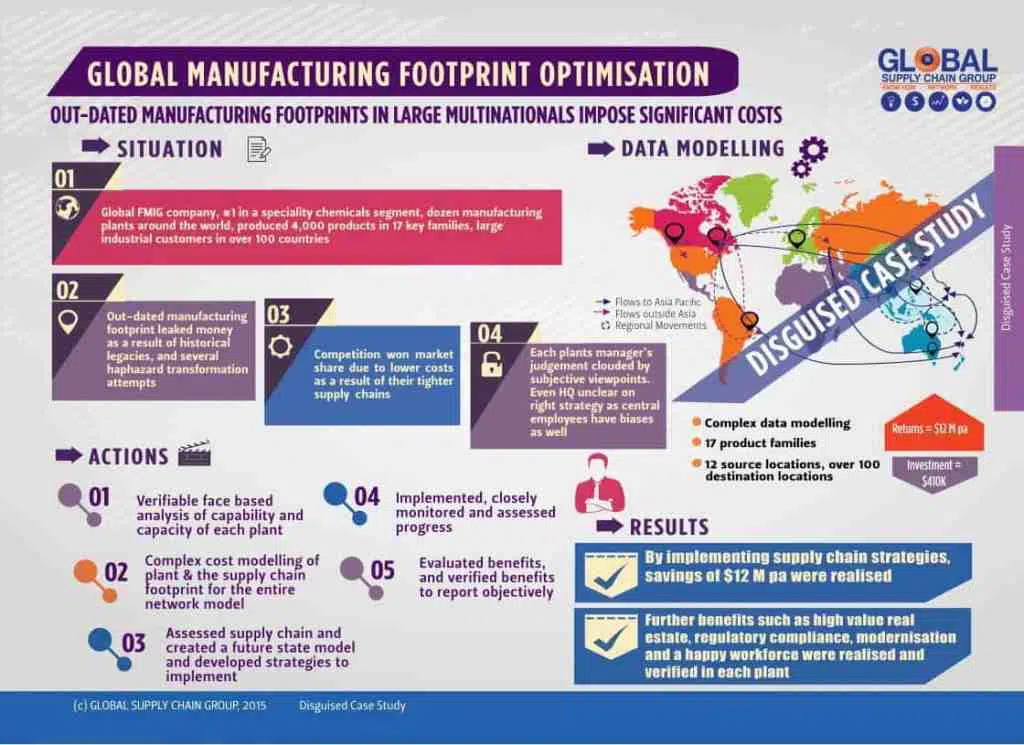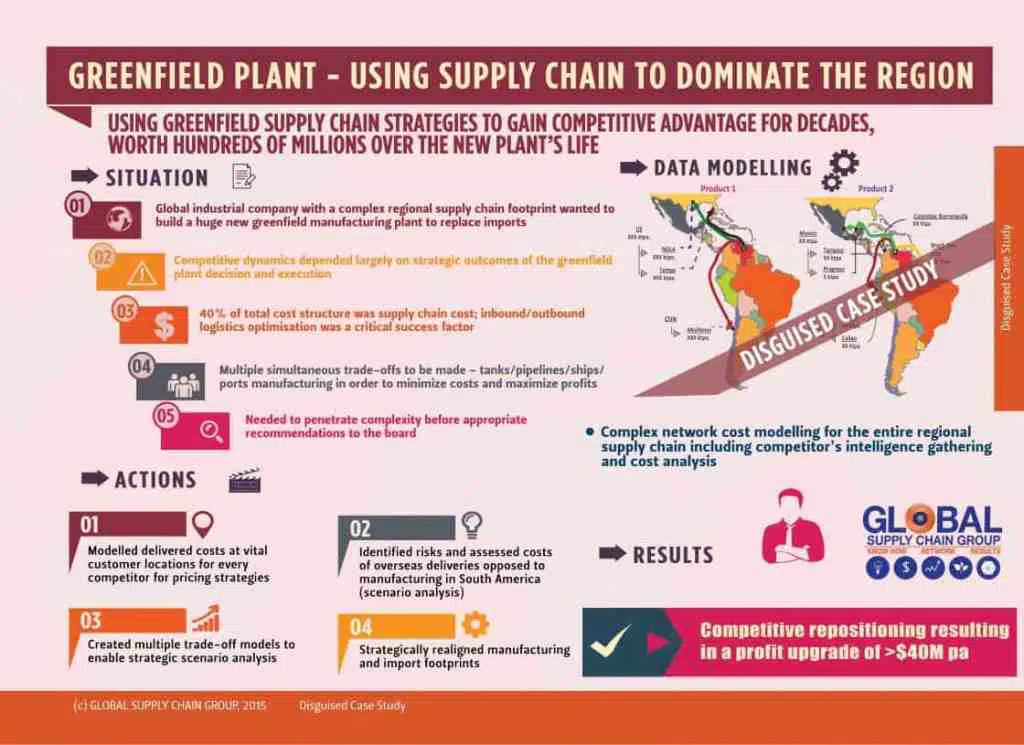 WE HAVE A WELL JUSTIFIED REPUTATION FOR HITTING THE NAIL ON THE HEAD EVERYTIME, AND, WITHOUT ANY DRAMAS
Once You Have Made Up Your Mind To Engage Outside Supply Chain Consulting Services, How Do You Conduct A Market Scan To Discover The Full Range Of The Choices Available To You?
Following are some of the most common approaches:
Usual Suspects – Some people just put a few well known big international brand names on the list? How could they go wrong with this list. After all, these guys have the reputation, and an implicit nod from the top.
Previous Relationships – Others rely on their existing relationship with their accounting firm or auditing firm, assuming that they also have the cutting edge supply chain transformation know-how. 
Who Shows Up – Still others simply invite firms that show up on their doorsteps to submit a proposal, and choose the most attractive looking proposal out of them. 
Ask For Recommendations – More careful operators ask for recommendations from their more experienced peers. 
All these are good ways of conducting your discovery process; from each of these, we have won projects in the past 21 years of our success. 
However, if you look carefully, something might be missing here. 
A systematic framework to understand who-is-who in the marketplace, and to use the best available supply chain & logistics consultant for your own project, will make your discovery process much more efficient and productive. 
In a crowded marketplace, why is important to use a systematic approach to find the top supply chain consulting firm in Australia for the work you have in mind? 
Because this is not a trivial decision. A lot rides on this decision – you are not only investing a lot of your company's resources in this consulting project, you are also losing time against your competitors. 
You might get the right consulting firm for your supply chain project based on the any of the above approaches. But, it is just as likely for your team to be driven solely by emotion and make the wrong choice.
On the other hand, if you applied the following quick framework to discover the Business Transformation Expertise (Depth of skills, Breadth of related skills, Quality of Experience), as well as, the Intention (Trustworthiness, Carefulness, Emotional engagement) of each of the firm you will be able to differentiate between all your options a lot better. 
For your next project, try this approach to explicitly differentiate supply chain consulting firms in Australia, and you will be surprised with the clear insights that emerge. It will be like a magical ability to see around the corners. You will not only make a much better choice, but also be able to manage the subsequent projects a lot more efficiently.
You can even adapt this approach to choose between your supply chain software providers, logistics service providers, warehouse contractors and many other competency based services. 
Because, as the famous quantum theorist Heisenberg famously noted, the intentions matter as much as the competence.  This dictum applies especially when it comes to competency based services. 
The graphic below, from our book, 'Unchain Your Corporation' depicts the big picture in a holistic manner. The approximate position of each of the contender might vary somewhat, but it will help you analyse your options much better.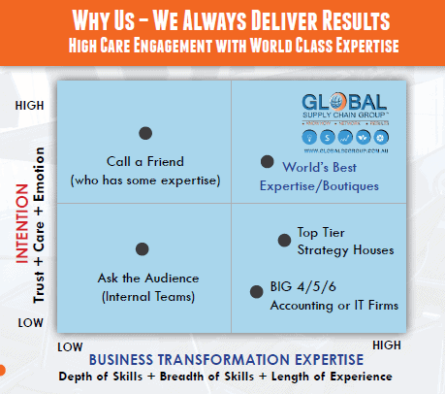 To know more about Global Supply Chain Group projects, click on the button below, and if you need to know about even more projects, be sure to send us an email on [email protected] with full detail of your project, so that we can find similar projects from our case library and send this to you. 
GLOBAL SUPPLY CHAIN EXPERTISE
There are few firms with a consistent track record since January 2000 of successful large scale supply chain strategy projects. For supply chain strategy projects, measured against MBBB firms and their clones, Global Supply Chain Group's key differentiation is that today, we achieve better results with smaller teams.
Since Our Inception On 11 January 2000, In
21 Years 9 Months 20 Days
BUSINESS TRANSFORMATION PROJECTS
BOOKS AND MAJOR PUBLICATIONS
CUSTOMERS AND ONLINE FOLLOWERS
LEADING SUPPLY CHAIN CONSULTANTS
Global Supply Chain Group Helps Business Leaders Succeed
Global Supply Chain Group create business transformations using supply chain concepts as the bedrock of our activity within a company. We work closely with the CEOs' chosen business transformation leaders who come from a variety of functional areas within the company.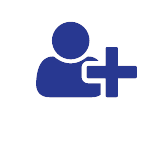 c-level executives and vps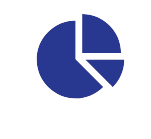 On a day to day basis, Global Supply Chain Group teams work with business transformation leaders, or one of the chosen C-Level Executives; we report on a weekly or forthnightly basis to the CEOs, senior leadership teams, or boards.
GLOBAL SUPPLY CHAIN COLLABORATION
Global Supply Chain Group Network Creates Win-Win Partnerships That Helps Businesses Succeed
Global Supply Chain Group started off with major supply chain transformation projects for a global industrial corporation, and over the course of two decades and over 400 projects, we have deeply scrutinised more than 4,000 global players comprising supply chains of almost every industry in every part of this globe. Our collaboration partners are important, and share our ethos.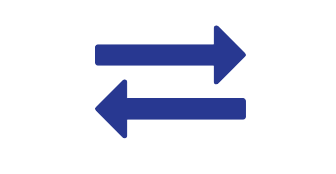 SUPPLY CHAIN SOFTWARE COMPANIES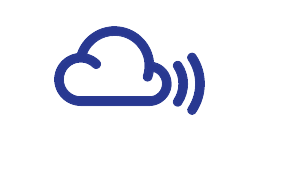 SUPPLY CHAIN AUTOMATION AND PROPERTY GROUPS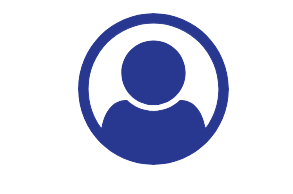 BOUTIQUES AND CONSULTANTS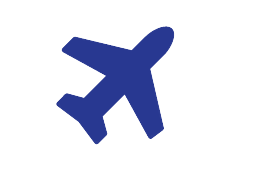 On a day to day basis, Global Supply Chain Group teams work with business transformation leaders, or one of the chosen C-Level Executives; we report on a weekly or forthnightly basis to the CEOs, senior leadership teams, or boards.
GLOBAL SUPPLY CHAIN GROUP ENDORSEMENTS
"When I engaged Vivek's services for supply chain transformation in one of the companies I was heading, we expected the careful and methodical approach that he was famous for."
"I have experience with many of the well-known top-tier strategy firms but chose Global Supply Chain Group to support me on my supply chain projects. They always meet and exceed my expectations due to the quality of the work, the ability to work collaboratively with internal teams."
The board were highly complementary of the presentation and result and commented that they were surprised at the level of detail and quality of analysis contained in the report. This speaks to the fact that Vivek is a very capable practitioner, grasps the key issues early, uses highly effective methodologies, people and communication skills to identify where and how to gather the critical information.
I am tempted to give him the nickname "Mr. Supply Chain".
GLOBAL SUPPLY CHAIN DEVELOPMENT STAGES
Global Supply Chain Assessment
Unknown to even many supply chain professonals, there have been at least four distinct stages of global supply chain development in the past forty years since supply chain management was 'co-invented' by Dr Wolfgang Partsch (our senior partner based in Munich). 

Some companies keep powering through to the latest stage, while most companies get stuck in one of the initial stages, mostly ERP dominated SCM 1.0. The results of your supply chain, and your business, will vary dramatically depending on your company's position on this roadmap.  Below, there is an easy way to find out your company's standing on this roadmap. 
BEST GLOBAL SUPPLY CHAIN EXPERTISE IN AUSTRALIA
THREE KEY QUICK SUPPLY CHAIN DIAGNOSTICS TOOLS
CHOOSE THE RIGHT ONE FOR YOU
Quick SCM Diagnostics
Medium SCM Review
Detailed SCM Self-Assessment
Quick SCM Diagnostics
Quick Supply Chain Diagnostics – $35
QUICK

INEXPENSIVE

ACTIONABLE RESULT

Rough estimate
Self-assessment
Not data-based
Medium SCM Review
Detailed SCM Self-Assessment
To shine a light on efficacy of a particular aspect of your supply chain - i.e. cash-to-cash cycle, new product development, transaction profitability, product pipeline phasing, or strategic outsourcing - please contact us, or search for other tools in the footer.
PATHWAY TO GLOBAL SUPPLY CHAIN TRANSFORMATION
Global Supply Chain Development
There are six increasingly intense ways in which companies engage with our supply chain expertise. You may prefer to start with one of our books, reports or courses to assess your supply chain, create the business transformation, and get your results; in these cases you don't need to call us to undertake a project.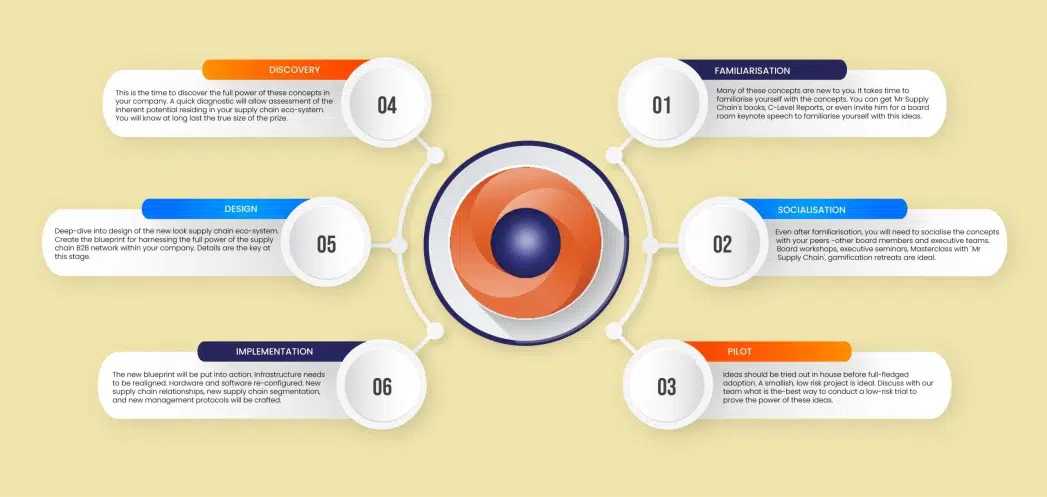 How To Get In Touch With Global Supply Chain Group
In 2021 And Beyond, The Easiest Way To Contact Us Is Given Below. Typically, You Will Hear Back Within A Few Hours:
Telephone Or SMS/MMS - +61 2 8920 0694 Or +61 412 317 850
Whatsapp - +61 412 317 850
Other Locations - Global Supply Chain Group
Global Supply Chain Group,
Attn: Dr Wolfgang Partsch,
P.O. Box 1421
82028 Gruenwald
Germany / Europe
 [email protected]