FAQs on Supply Chain Careers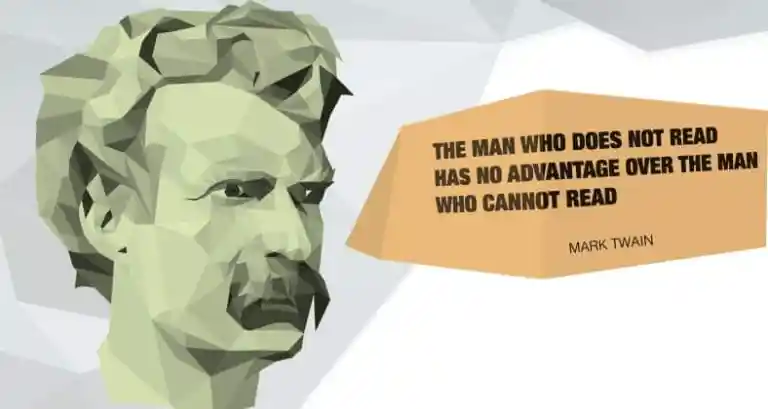 FAQs (Frequently Asked Questions) On Supply Chain Careers
Following are some of the frequently asked questions (FAQs) on Supply Chain Careers that we have encountered in our speeches, workshops, seminars, and other forums.  Feel free to ask more questions if your particular question is not answered below.
Why We Are Qualified To Write This List Of FAQs On Supply Chain Careers?
We have employed and trained dozens of supply chain interns and consultants over the last 20 years of existence of GLOBAL SUPPLY CHAIN GROUP. If you think you could make the cut as a supply chain consultant, or intern get in touch with us to review what it takes and what it entails. 
VERY FEW PEOPLE KNOW SUPPLY CHAINS LIKE WE DO – retail, beverages, food, milk, dairy, meat, livestock, explosives, chemicals, cotton, rice, graphite, solar power, natural gas, crude oil, fertilizers, electronics, packaging, glass manufacturing, machine parts, automobiles, industrial goods, mining, etc are just some of the industries where boards and executives have benefited from our proprietary knowledge of the supply chains. 
Click on our project methodology above to see how building Supply Chain Careers is an integral step in each and every project that we have undertaken in the last three decades.
Since when no one had heard of supply chain, our co-founder Vivek Sood has been considered one of the most authoritative professionals in the field when it comes to the subject of supply chain analytics in Australia, Asia, North America, South America and Europe.
 He has written four seminal books about restructuring supply chains to gain massive advantage in business. He also regularly delivers keynote speeches at business schools and conferences such as University of Technology Sydney, Supply Chain Asia, Asian Bankers Forum, APEC Business Advisory Council.
He has been quoted in the authoritative business press and over 100 academic papers written by supply chain researchers around the world. Vivek and his team have examined thousands of supply chains during their projects over the last three decades and helped hundreds of executives build safe, cost effective and sustainable supply chains and careers. 
FAQs (Frequently Asked Questions) On Supply Chain Careers
Why Are SCM Careers Becoming So Popular? Why Should Anyone Bother About A Career In Supply Chain Management?
As millions of new graduates come into the job markets in India, China and the rest of the developing world – the field of supply chain management is garnering tremendous amount of interest.
Along with data analytics, automation and artificial intelligence, SCM is one of those 'hot' fields that hold out immense potential for the humanity in the fourth generation of industrial revolution.
It is a new field, and it is a vastly growing field with growth in the following areas (all of these have FAQs and Quick Notes on Our website):
Our Quick Notes On Supply Chain Risks
Our quick notes on supply chain automation
Our quick notes on supply chain analytics
Our quick notes on supply chain artificial intelligence
Our quick notes on five flows of supply chain management
Our quick notes on supply chain finance
Our quick notes on supply chain dashboards
Our quick notes on supply chain systems
Our quick notes on supply chain trainings and courses
If you are a student, and you purchase our quick notes or report on supply chain careers – all these other quick notes are free for you. Please send us an email on [email protected] with full details of your studentship.
What Is Supply Chain Management (SCM)?
Supply chain management (SCM) has multiple meanings for different groups of people.
To the uninitiated – it is a string of words which are difficult to pronounce together and convey a meaning of having something to do with managing supplies, and managing chains. In fact, when we started our company, Global Supply Chain Group in the year 2000, people used to ask me on the golf course – what kind of chains does your company supply?
Most laymen and businesspersons think of it as something to do with supplier management, logistics management and transportation. In 2006, I had the honour and privilege to chair the supply chain 2020 conference in Melbourne, and it was clear that many people were grappling with the wrong notion of SCM in their minds. Most people confused SCM with logistics, or procurement, or transportation and missed the essence of SCM in the their minds.
To the experts, SCM maps and manages five flows inside and outside any company – that of physical goods, finance, information, value and risk – in order to make an organisation as profitable as possible while turning its customers into fans of the business.
What Are The Four Key Attributes Of SCM, That Indicate The Presence Of "Real" SCM In A Situation?
SCM COMES INTO PLAY IF, AND ONLY IF THESE FOUR ATTRIBUTES ARE PRESENT:
BREAKS DOWN THE SILOS – THE ARTIFICIAL DIVISIONS BETWEEN DIFFERENT DEPARTMENTS
Traditional management is based on the art of division of labour. Yet, this can result in dysfunctional silos when left to fester beyond a point. SCM can focus everyone on the overall objective.
REMOVES FIEFDOMS AND PERSONAL EMPIRES WHEN THEY BECOME DETRIMENTAL TO INTEGRATION
It is easy to build fiefdoms and personal empires within large corporations. Eventually they become detrimental to the overall goals of the organisation. SCM is fast replacing finance as the tool for streamlining fiefdoms and drawing everyone in the same line.
MELTS RESISTANCE TO OPTIMISE OUTCOMES
Resistance is common, for a variety of reasons (including the two reasons above). Sometimes, when reason does not work, the only way to melt resistance is to use leadership mandate.
RELEASES DATA FROM 'DATA HOARDS'
Despite investing signficant sums in newer ERP systems, people still find ways of hoarding data. Afterall, information is power. Strong SCM leadership is often required to stop people from data hoarding.
THERE ARE WAYS TO MEASURE EACH OF THESE FOUR ATTRIBUTES.
IF THESE FOUR ATTRIBUTES ARE MISSING, WHAT YOU HAVE IS JUST ONE OF THE COMPONENTS OF SUPPLY CHAIN – SUCH AS LOGISTICS, OR PROCUREMENT, OR PRODUCTION PLANNING, OR INVENTORY PLANNING, AND IT SHOULD BE TREATED AS SUCH.
Why Do You Call SCM Jobs As The Best Jobs On Earth Today?
For three simple reasons – ability to self define the job, autonomy, and climb up to the board room.
NO WONDER, SOME OF THE BEST CEOs TODAY COME FROM WITHIN THE RANKS OF SUPPLY CHAIN MANAGEMENT PROFESSIONALS.
Most non-SCM bosses do not understand the complex models – they still treat it like a black box full of mysteries. You can do as little as just logistics management (which many SCM leaders end up doing), or, as much as the full job of the CEO (like Tim Cook of Apple, and many others do).
TODAY SCM JOB MAY BE ONE OF THE BEST JOBS ON EARTH
Ability to self define the job, autonomy, and climb up to the board room.
CEOs complain about enormous Volatility, Uncertainty, Complexity, and Ambiguity (VUCA) in their job. Wait till they fully understand the VUCA in their supply chain officers' job.
SUPPLY CHAIN MANAGEMENT ROLE
Ambiguity – No two supply chains – boundaries, definitions, responsibility sets – are alike.
That is a polite way of saying everybody has their own definition of what SCM should be. Finance, Marketing, Sales, Logistics each define SCM in ways that suits them. Many CEOs and boards still do not fully understand the differences between various definitions, and which is most appropriate for their company.
Uncertainty – SCM frequently manage things that are quite outside their control.
When things go wrong anywhere in operations – in logistics, in manufacturing, in customer service, in procurement, in inventory – or even in sales, SCM frequently is the first one to trouble-shoot. Influencing skills are critical.
Complexity – economic volatility is only one driver of complexity. Globalisation, product proliferation, customer expectations and technology development add to the enormous complexity.
Good SCM needs more mathematical horse power than the most complex wall street models, and more real life business understanding than the Warren Buffet.
What Is The Core Value That SCM Brings To Any Company?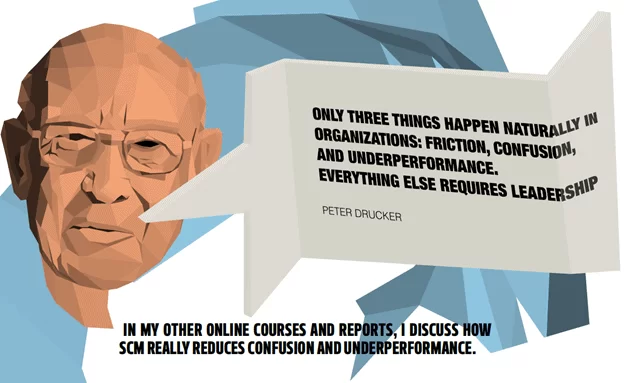 Our quick notes on supply chain cost reduction
Out quick notes on supply chain restructuring
Our Quick Notes On Supply Chain Risks
Our quick notes on supply chain automation
Our quick notes on supply chain analytics
Our quick notes on supply chain artificial intelligence
Our quick notes on five flows of supply chain management
Our quick notes on supply chain finance
Our quick notes on supply chain dashboards
Our quick notes on supply chain systems
Our quick notes on supply chain trainings and courses
If you are a student, and you purchase our quick notes or report on supply chain careers – all these other quick notes are free for you. Please send us an email on [email protected] with full details of your studentship.
IS A CAREER IN SUPPLY CHAIN WORTH IT?
SCM is a growing field, and there is a lot of potential to grow with the field, and grow in this field.
SCM was invented (by Dr Wolfgang Partsch and his team) only 40 years ago. No other methodology grew so much, so fast.
Today, every MBA on earth has SCM subject, or even specialisation these days.
More than 40k books have been written on all aspects of SCM. Academic research flourishes.
 40 YEARS AGO THERE WAS NOTHING IN THIS FIELD.
But, where it really is booming is real life. SCM has morphed into business networks
and eco-systems. They are being configured daily. It is a very dynamic
field. Lots of growth and SCM is movement. Opportunity to excel abounds –
both in consulting, as well as in large and small corporations.
Certification courses and trainings abound. There are plenty of avenues to further your knowledge, capability and reach.
ONLY YOU CAN DECIDE WHAT IS THE BEST CAREER FOR YOU.
WHAT IS IT LIKE TO BE A SCM PROFESSIONAL?
You can make the job to be what you want, depending on what you are, and what you enjoy.
I have seen SCM professionals being treated like CEO (similar to Tim Cook who was its SCM head, and is now actually the CEO of Apple and still works with a SCM mindset).
Many of my clients from within SCM field are now CEOs of multi-billion dollar companies. They excelled in their previous jobs, and know how to use it as a springboard to their next career move.
I have also seen SCM professionals being treated little better than the dispatch clerks.
I see this everyday. People who have tendency to do as they are told rarely work at a level higher than a dispatcher in supply chain. Some would progress based on their seniority but become ineffective.
Nascent field – Job definitions are not set in stone. Most people are still working out what they want from their SCM team.
Expecting non-SCM people to define your role is even crazier. They invariably define it as merely logistics, or procurement, or some combination of two. They miss the vital parts stated on page 11.
Most companies get it wrong, and they know it. They just don't know how to get it right. They are prepared to work with it to eventually get it right
Companies want to take their supply chains from good to great. They lack information on how to get it there. Opportunities abound for business transformation using SCM as the tool.
What Are The Eight Different Kind Of Careers That Are Available In Supply Chain Management?
Following are the jobs that are offered in supply chain planning sector: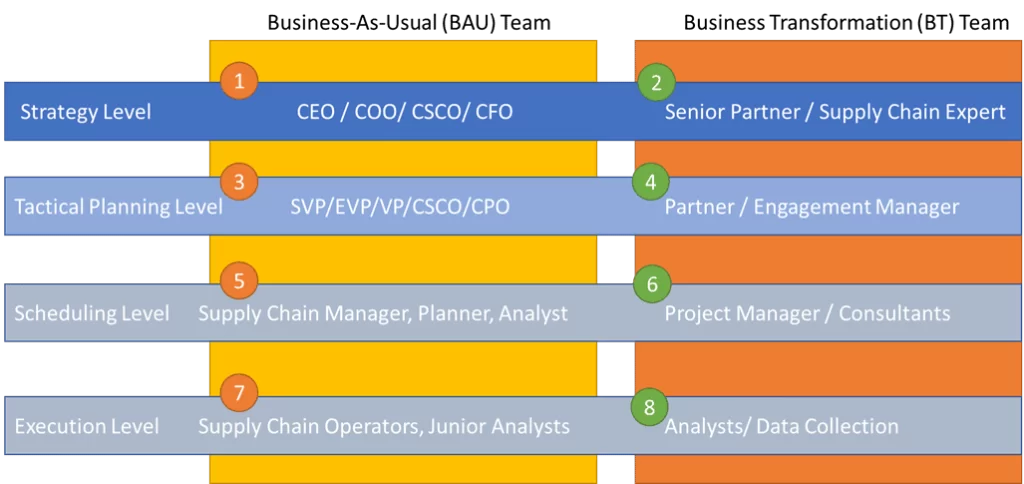 I Am A Recent Graduate, What Are The Different Kind Of Jobs That Are Available In Supply Chain Planning And Analysis?
Supply chain planner
Demand Planner
Production Planner
Capacity Planner
Logistics Resource Planner
Transportation Planner
What Are All The Roles Of Supply Chain Business As Usual Team?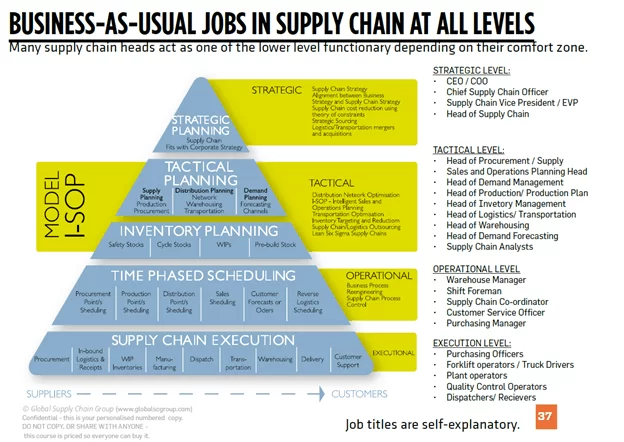 What Are The Roles Of Demand Planner? How Does It Differ From Demand Manager?
A demand planner 'plans' the future demand, but does not endeavor to 'manage' it.  
So, What Is The Difference Between 'Planning' The Future Demand And 'Managing' The Future Demand?
That is the million dollar question for most companies. 
Planning demand is an easier activity in which you take the demand as given, and try and estimate or forecast the anticipated demand in any given period at a particular location.
Your effort is then focused on communicating that demand plan as far and wide as is necessary to fulfil that anticipated demand. Rest of the energy is focused in trying to justify your demand plan. 
Demand management entails a much boarder set of activities in which you endeavour to influence the demand using any and all the levers at your disposal. Pricing is one of the most visible levers. Promotion is another visible lever – generally the forte of the marketing departments in any business. A demand manager works in close co-operation with the marketing department to modulate the demand in an active manner to maximise the profitability of the organisation. Not many companies (except for the monopolies – whether temporary due to a pandemic, or permanent)  are in a position to conduct a full-fledged demand management campaign.
What Are The Roles Of Production Planner In Supply Chain Planning?
As a production planner, you would concentrate on manufacturing and production operation. 
Production planner is responsible for designing a safe and effective production plan in the manufacturing function within a company. You will be working with demand planners to ensure optimal levels of manufacturing output are maintained and, these are aligned with the demand.
What Are The Roles Of Capacity Planner In Supply Chain Planning?
This role is similar to that of a production planner. However, it might be a wider role, since the focus is on all elements of a production operation. The role of a capacity planner is to optimise manufacturing or production capacity through design, strategy, procurement and collaboration with supply chain partners.
What Are The Roles Of Logistics Planner In Supply Chain Planning?
A logistics planner is responsible for coordinating storage and transportation of physical goods to fulfil customers' orders in line with the company's service promise.
How The Integration Of Supply Chain Get Affected By Globalisation?
With the community-like feel, globalisation can offer, it has enabled extensive collaboration of people around the globe. An example of this is co-branding. More specifically, in fashion and design, we regularly see brands working together to release unique, limited edition designs. This process of sharing and joint effort not only boost sales it also attracts media attention and promotes creative and innovative thinking.
What Are The Supply Chain Jobs That Are Offered In Manufacturing?
Manufacturing or production is a broad based function in an organisation, which contains crucial departments such as Production, Maintenance, Planning, Quality Control, Purchasing and Warehousing. There are so many jobs that are available in these departments, and usually, they will specific in nature according to the type of business. Some of the typical occurring positions in the manufacturing departments are given below.
Production Operative
Production Supervisor
Production Manager
Maintenance Operative
Maintenance Supervisor
Maintenance Manager
Production Engineer
Quality Manager
Production Planner
Purchasing Manager
Warehouse Manager
What Are The Supply Chain Related Jobs That Are Offered In Procurement?
In procurement, you will be involved in building agreements with suppliers engaging in negotiations over stock price, service, and inbound transportation of the purchased commodity. Jobs in procurement can comprise:
Strategic Sourcing Manager
Purchasing Executive
Inventory Clerk
Procurement Manage
Commodities Manager
Category Manager
What Are The Jobs That Are Offered In Logistics And Transportation?
The logistics are an important element of supply chain management. It is concerned with the actual movement of materials and. Jobs in logistics are such as warehouse operatives and drivers, transport administration jobs, supervisory and managerial jobs, to senior management positions.
Following are some of the jobs in this department:
Logistics Administrator
Logistics Manager
Transport Administrator
Transport Manager
Reverse Logistics Manager
Warehouse Administrator
Inventory Controller
Warehouse Manager
Logistics Director
What Are The Other Kind Of Career Pathways In Supply Chain Management?
There are many different roles that exist that can provide an exciting and satisfying supply chain career. Some examples include:
Supply Chain Analyst
Supply chain Finance Management
Supply Chain IT
Project Management
Supply Chain Consulting
Explain The Job Profile Of A Supply Chain Analyst?
Supply chain analyst is the one who responsible for analysing a company's supply chains and designing solutions to improve performance.
Explain The Job Profile Of Supply Chain Finance Management?
It is similar to other corporate finance functions, but specialising in the management of supply chain finance flow. This job typically exists only in larger enterprises.
Explain The Job Profile Of Supply Chain IT?
Bigger companies also have IT sector dedicated to managing technology for the supply chain. Some businesses have IT departments exclusively serving the logistics function.
Explain The Job Profile Of Project Management?
Projects are essential to all areas of industry, supply chain being no exception. If you like your career to be challenging, a job in supply chain project management can be a choice. This is a role typically found in bigger companies or in enterprises that provide logistics services.
Explain The Job Profile In Supply Chain Consulting?
As consulting, you will be working on hundreds of projects for a multitude of companies. However, it is a good idea to gain some experience working in supply chain management before you take a consulting position.
Sink Or Swim Report: How Information Technology Can Save Or Ruin Supply Chains
Access the short guide to this report by filling in the form below:
Clearly, any such list of frequently asked questions (FAQs) about supply chain can never be fully exhaustive. Neither is anyone, including us, the final authority and arbitrator on this or any other topic. 
You will have your own opinions on many of these topics, and will have many other questions. 
We throw open the comments section to you for your opinions and questions. We will try to address all of these, and the best ones will attract a reward in the form of one of our books, or publications. 
Our Clients say it better than we ever could: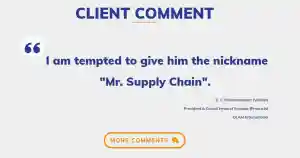 Our Clients come from a variety of industries – yet they have a common element. They rarely rest on their laurels, and are always looking to do better.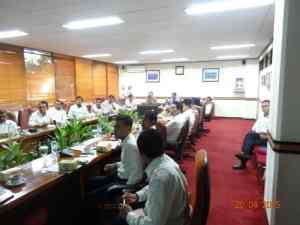 OUR PROJECTS - EFFECTIVE TRANSFORMATIONS
In the last 20 years we have completed more than 500 projects. Click below to see a sample of our projects.