FAQs (Frequently Asked Questions) On Green Supply Chains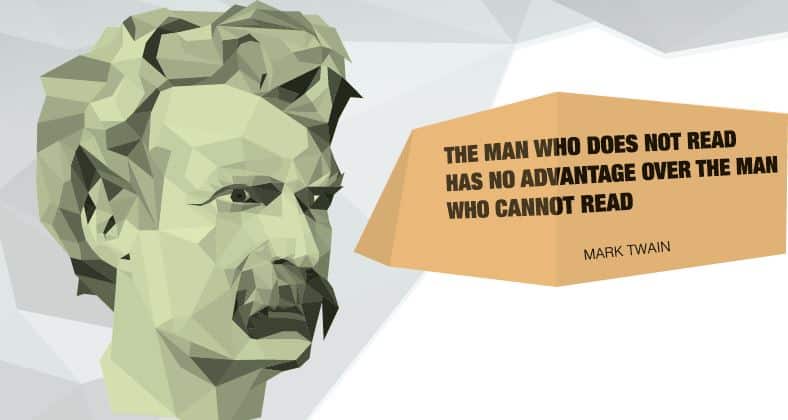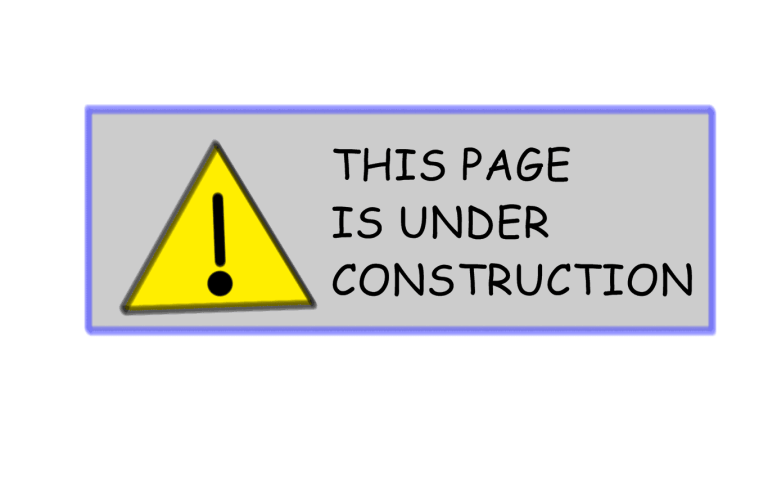 FAQs (Frequently Asked Questions) On Big Data In Supply Chain
Following are some of the frequently asked questions (FAQs) on Big Data In Supply Chain that we have encountered in our speeches, workshops, seminars, and other forums.  Feel free to ask more questions if your particular question is not answered below.
Why we are qualified to write this list of FAQs on Big Data In Supply Chain?

What is big data and data analytics? How might they be used in supply chains?

What is data analytics in the supply chain?

How to Optimize SCM with Big Data?

What are the applications of BDA in supply chain management?

How BDA applicable in production design in the supply chain?

How BDA applicable in network design in the supply chain?

How does the Big data improve supply chain speed?

How BDA improves Supply Chain Execution in Real-Time?

Benefits of Using Big Data in SCM?

What will be the future trends of SCM with big data?
Why We Are Qualified To Write This List Of FAQs On Big Data In Supply Chain?
VERY FEW PEOPLE KNOW SUPPLY CHAINS LIKE WE DO – retail, beverages, food, milk, dairy, meat, livestock, explosives, chemicals, cotton, rice, graphite, solar power, natural gas, crude oil, fertilizers, electronics, packaging, glass manufacturing, machine parts, automobiles, industrial goods, mining, etc are just some of the industries where boards and executives have benefited from our proprietary knowledge of the supply chains. 
Click on our project methodology above to see how Big Data In Supply Chain is an integral step in each and every project that we have undertaken in the last three decades.
Since when no one had heard of supply chain, our co-founder Vivek Sood has been considered one of the most authoritative professionals in the field when it comes to the subject of supply chain analytics in Australia, Asia, North America, South America and Europe.
He has written four seminal books about restructuring supply chains to gain massive advantage in business. He also regularly delivers keynote speeches at business schools and conferences such as University of Technology Sydney, Supply Chain Asia, Asian Bankers Forum, APEC Business Advisory Council.
He has been quoted in the authoritative business press and over 100 academic papers written by supply chain researchers around the world. Vivek and his team have examined thousands of supply chains during their projects over the last three decades and helped hundreds of executives build safe, cost effective and sustainable supply chains and careers. 
FAQs (Frequently Asked Questions) On Big Data In Supply Chain
What Is Meant By Big Data?
Big data is the massive volume of data – both structured as well as unstructured – that inundates thew activity on a day-to-day basis. But it's not the volume of data that's important. Big data can be processed for insights that lead to better decisions and strategic business moves.
What Is Big Data In Supply Chain Management?
Big supply chain analytics uses data and quantitative methods to improve decision making for all activities across the supply chain. First, it expands the data for analysis beyond the traditional internal data held on ERP and supply chain management systems.
What Is Big Data And Data Analytics? How Might They Be Used In Supply Chains?
Big data is impacting on all supply chain activities. It ranges from improved delivery times to reduced communication gap between suppliers and manufacturers. Analytics reports support the decision-makers to achieve operational efficiency and monitor performance to improve productivity.
What Is Data Analytics In The Supply Chain?
Analytics describes the ability to make data-driven actions based on a summary of trusted data using visualization. Supply chains typically generate vast amounts of data.
How Can Big Data Transform The Supply Chain?
One of the most significant advantages of big data and analytics is the ability to communicate more quickly. With the use of data, any issues in the supply chain, such as delays, can be identified, communicated and resolved more quickly, involving all key parties in the chain.
How To Optimize SCM With Big Data?
It has been said that Big Data find uses at all levels of a business. This is true for supply chain management – the optimization -side business activities, such as product development, manufacturing, and product distribution, to increase revenue and customer value. Big Data management has enormous implications for supply chain management. Firms that can filter, aggregate, and analyze internal data along with external consumer and market data, can use the insights to optimize decision-making at all levels of the supply chain.
What Are The Applications Of BDA In Supply Chain Management?
Supplier relationship management
Network design
Product design BDA and supply and development
Demand planning
Procurement management
Customized production
Inventory management
Logistics
How BDA Applicable In Logistics?
Many research studies relate to the application of BDA in the areas of transportation and logistics. BDA has been used to gain a competitive advantage and provide new services in logistics. The maritime business has also used prescriptive and predictive BDA for solving planning problems.
How BDA Applicable In Production Design In The Supply Chain?
Better product development: How would the way company design product's change if they could learn not only how consumers are using them, but also where they are having trouble with it and what features they are overlooking altogether? That information will be available to business soon. Mechanical engineers have the ability for product insights. With an IoT enabled device, products can stream usage data back to engineers.
More empowered engineering: Traditionally, engineers rely on the marketing department, customer visits, or their own best guesses to design competitive products. However, big data could provide huge volumes of reliable feedback that none of those channels offers. Products are generating much information during their lifecycle, and new trends for the IoT will bring even more information to manufacturing companies.
Faster product development: As much more data remain on the cloud, more people can reach information faster compared to working within corporate networks. That may lead to more participants involved in the product development cycle early on.
Concluding with all these disciplines in product design connected to the big data throughout the various stages of the design cycle, the engineers will be confronted with many surprises and few unpleasant shocks as well. Big data also improve knowledge management in supply chains, which can increase the supply chain throughput by improving product development.
How BDA Applicable In Network Design In The Supply Chain?
Supply chain design itself is a strategic decision, which comprises all decisions of the selection of partners of the supply chain also defines company policies and programs to achieve long-term strategic targets. Supply chain network design project involves determining to supply physical chain configuration that affects most business units within a company. In generating the supply chain network, it is essential to decide on customer satisfaction and supply chain effectiveness. The duty of supply chain design is to create a system of members that can meet the long-term strategic targets of the organisation. When designing a supply chain, the given steps are followed:
Drawout long-term strategic targets. 
Set the project scope.
Set the form of analyses to be done.
The tools for usage must be decided. 
Finally, project completion, the best design.
How BDA Applicable Inventory Management In The Supply Chain?
Inventory control is the system that plays a key role in the requisition process, inventory management, purchase, and physical inventory reconciliation. The following vital objectives define the design of inventory control.
Informing the number of goods in the warehouse and also the number of goods needed in the warehouse
Facilitating the requisition process to finish in time
Automatic recording and backorder serving
Minimizing the inventory by analyzing previous purchasing and consumption patterns of the organization
Minimizing the inventory by analyzing previous purchasing and consumption patterns of the organization
Improving the financial control of the inventory through a timely and regular checkup of the inventory balances with the physical counts.
How Does The Big Data Improve Supply Chain Speed?
Planning and Scheduling
Improved Responsiveness
 Improved Demand Planning
Order Optimization
Supply Chain Execution in Real-Time
 Inventory Planning and Development
Replenishment Planning.
How BDA Improves Supply Chain Execution In Real-Time?
You can see your orders and supply chain in real-time so that you can be sure everything is going smoothly. Being able to use big data can support you keep your items coming in when they required to be as opposed to having to guess where things are and suppose if it is going to arrive on time. You can now track the items, check the shipment status, and so much more making this a critical tool for those that want a hands-on look at their supply chain.
Benefits Of Using Big Data In SCM?
Consumer Behavior: Leading telecom businesses are actively investing in big data analytics to analyze the usage patterns and habits of their customers. Enhanced Inventory Management: Streamlined E-commerce: Improved Traceability in Supply Chain Process
What Will Be The Future Trends Of SCM With Big Data?
In the coming years, supply chain processes will continue to benefit from blockchain technology's ability to: Secure all information within the blockchain. Provide up-to-date, accurate information in real-time. Provide visibility into data and data for stakeholders.
Sink Of Swim Report: How Information Technology Can Save Or Ruin Supply Chains
Access the short guide to this report by filling in the form below:
Clearly, any such list of frequently asked questions (FAQs) about supply chain can never be fully exhaustive. Neither is anyone, including us, the final authority and arbitrator on this or any other topic.
You will have your own opinions on many of these topics, and will have many other questions.
We throw open the comments section to you for your opinions and questions. We will try to address all of these, and the best ones will attract a reward in the form of one of our books, or publications.
ABOUT THE PRINCIPAL AUTHOR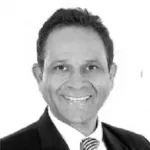 Today, Vivek and his partners are among 20-30 people on the planet earth who have this deep understanding of supply chain systems, practices and tools. CEOs, COOs, executives and Boards call them in most challenging situations once they know the full potential of supply chain based transformations. Following are key milestones in Vivek's journey:
Started in 1983 as a merchant navy cadet at 18 years age, worked his way to qualify as a Captain – qualified to take command of any merchant ship, worldwide.
Earned a top tier MBA from UNSW at the top of his class.
Joined highly regarded strategy consulting firm Booz Allen & Hamilton, consulting to the CEOs, Boards and senior management of global corporations within Australia.
To learn and specialise in supply chain – against all odds, sought out the co-inventor of supply chain in Germany and convinced him to be a partner in his firm, GLOBAL SUPPLY CHAIN GROUP, launched in January 2000.
More than 500 successful blue chip projects with high impact business transformations in large corporations using the full power of SUPPLY CHAIN MANAGEMENT.
4 Seminal and path breaking business books IN SUPPLY CHAIN MANAGEMENT – these are available in bookstores and universities and libraries worldwide.
Our Clients say it better than we ever could: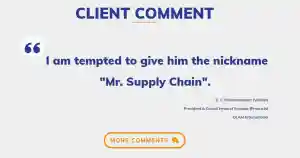 Our Clients come from a variety of industries – yet they have a common element. They rarely rest on their laurels, and are always looking to do better with less resources.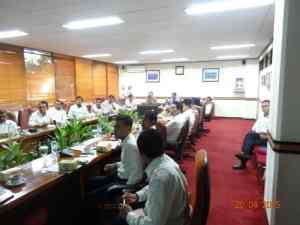 OUR PROJECTS - EFFECTIVE TRANSFORMATIONS
In the last 20 years we have completed more than 500 projects. Click below to see a sample of our projects.